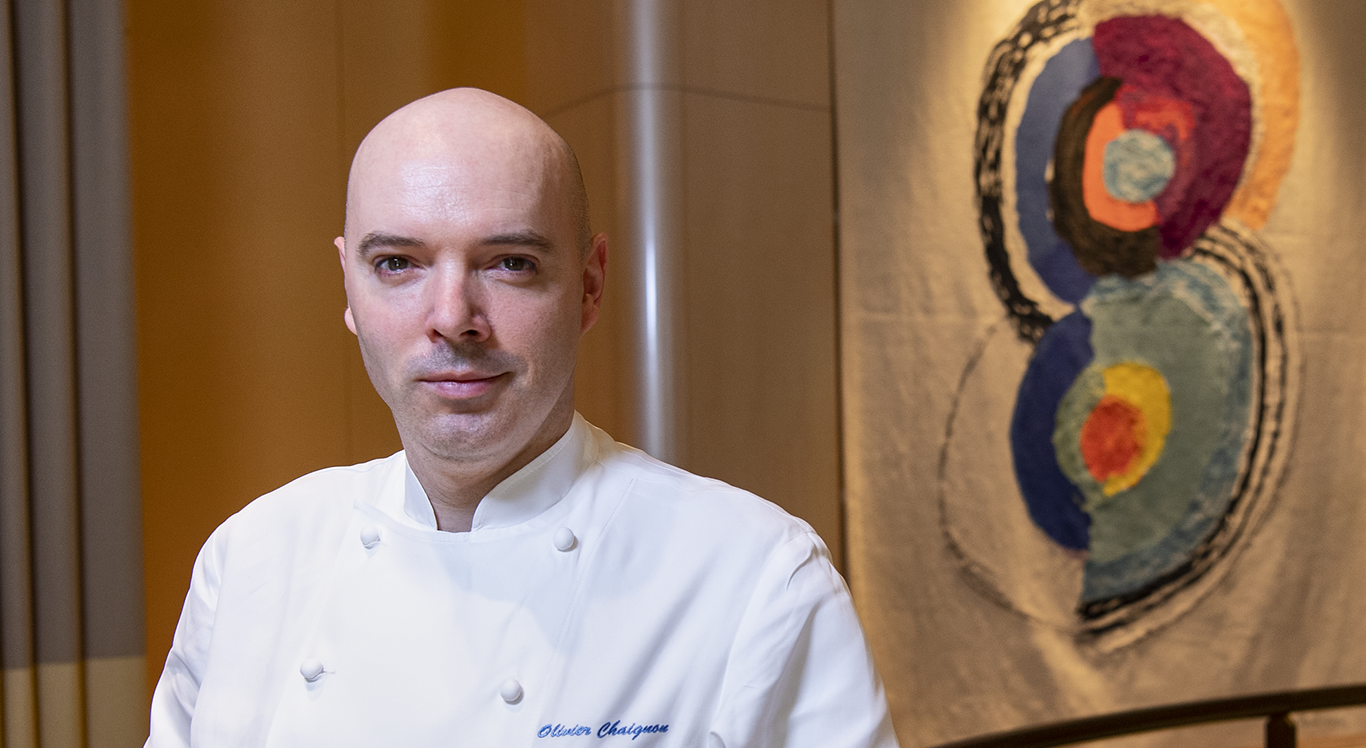 Olivier Chaignon
Executive Chef
L'OSIER
"I'm always on the hunt for high-quality ingredients around Japan and the world to incorporate into my culinary creations," says Olivier Chaignon. "I always encounter something new and interesting during my visits." When this rising star is not bustling around the kitchen at L'OSIER,his three-Michelin-starred Ginza restaurant, he's likely to be meeting personally with producers who grow finger limes (hyuganatsu citruses) in Miyazaki,edible roses in Wakayama, or ranchers who raise Japaneseb rown cattle (Aka-ushi) in Kumamoto.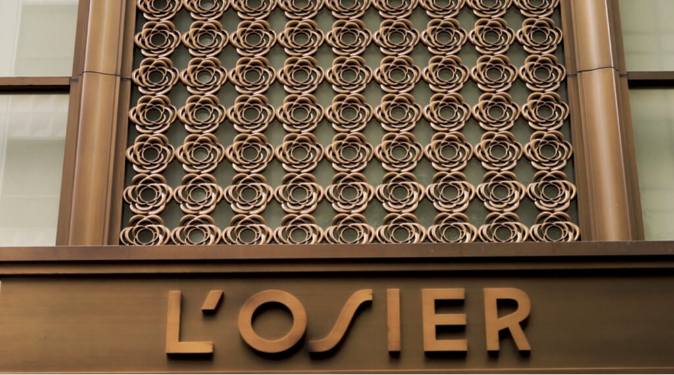 As he crafts his interpretation of French cuisine in Japan and manages his renowned eatery, Chef Chaignon places sustainabi lity squarely atop his priority list. Like its parent company, Shiseido, L'OSIER promotes SDGs throughout its operation—so much so that in 2021 the restaurant was awarded the Michelin Green Star, which recognizes restaurants at the forefront of sustainable practices in the industry.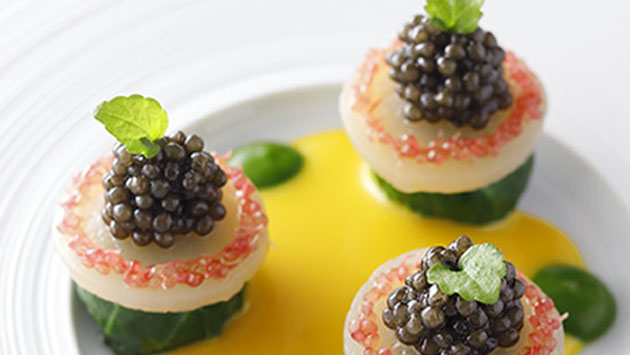 Led by Chef Chaignon
L'OSIER seamlessly blends luxury cuisine with environmental consciousness, from powering the restaurant with renewable energy to using soap made of recycled cooking oil and procuring produce from ethically sourced farms.
Chef Chaignon is also hoping to build a L'OSIER farm in the future, utilizing lactic acid bacterium and organic practices to grow produce for the restaurant and support the future of Japanese agriculture.
It is an approach that blends well with the SDG philosophy of Akaito, a company known for working with Japanese families in Kyushu who farm sustainably, eschewing chemical fertilizers and pesticides, and use traditional methods in harmony with modern scientific research.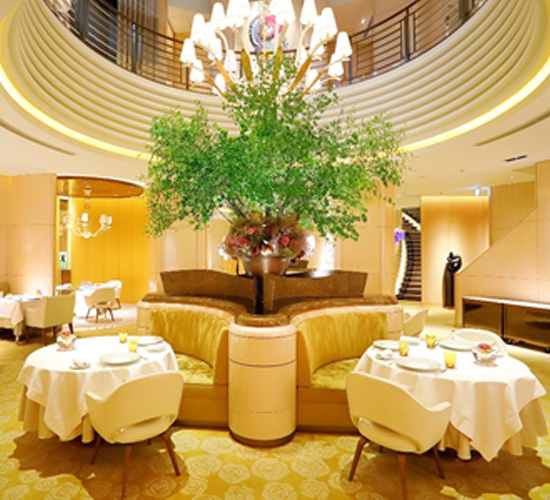 Early Experience with Organic Products
Indeed, Chef Chaignon travels across Japan to source fish caught via line fishing instead of conventional fishing nets, obtain chicken and eggs from eco-friendly poultry farms and to work with local schools in support of disabled people and organically grown vegetables. He sees himself as a bridge between such biodiverse agricultural businesses and the luxury restaurant industry.
"When I was growing up in France, fresh organic produce was abundant. Misshapen and lightly damaged fruits and vegetables also lined the stores with the blemish-free produce, and consumers could choose between the two," he says. "The emphasis on nutritious foods grown with environmentally friendly practices is the norm over there. Consumer demand for organically grown produce would incentivize farmers to grow more, creating a happy cycle."
Appointed L'OSIER executive chef in 2013, Chef Chaignon soon learned that things were different in Japan, where the organic movement lacked momentum. Talking to food producers, he learned that numerous hurdles to obtaining organic certification and generational differences prevented many farmers from going organic. He received a lukewarm reception when he met local government officials to push for organic. He thought the government could take a more active role by providing subsidies and incentives to farmers transitioning to organic practices.
Still, like Akaito, he's optimistic about the future of Japanese agriculture. "I hope to stimulate the industry by demanding more high-value food products," he says. L'OSIER's menu highlights his commitment to sustainable gastronomy.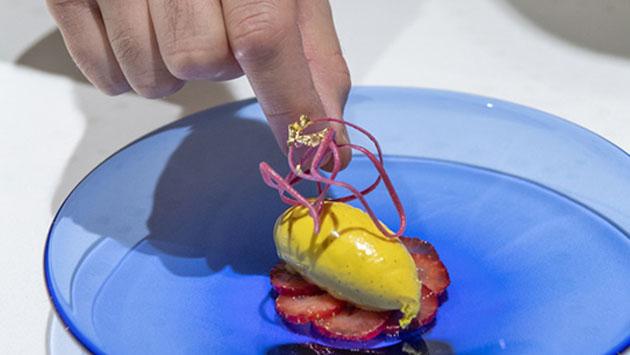 The Akaito Connection
Chef Chaignon was keen to try Akaito Japanese saffron after being introduced to it. "I didn't know about the Japanese saffron industry until I met Akaito," he says.
"Akaito saffron is exactly what I wish to encounter during my visits to food producers."
He appreciated the values he shares with Akaito, which proudly supports and participates in the Japanese saffron industry and the quest to deliver the highest-quality, most ethically produced saffron globally.
The modern saffron industry has been known to have somewhat murky control over the supply chain, and botanical adulteration is widespread. Indentured-labor conditions are not uncommon in some other saffron producing countries, but Akaito recognizes—and rewards—the meticulous manual labor it takes to pluck flower stigmas and then carefully dry them to preserve peak freshness. The company has challenged the status quo by creating an ethical and ecological business model, with fairly-paid workers and a transparent business route from producers to clients. It hopes that by rejuvenating a once declining industry, it can link the Japanese saffron industry with top restaurants in Japan and abroad.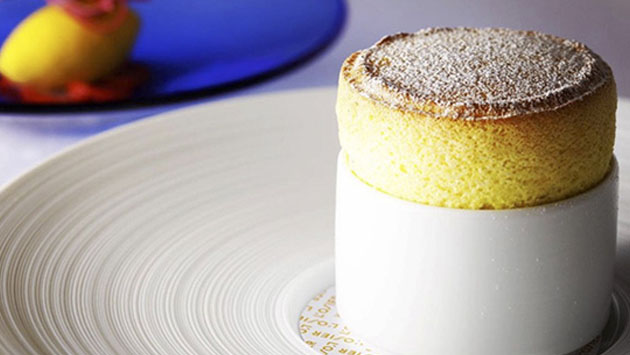 "It takes a while to coax the natural colors to appear, but I was pleasantly surprised with how the fragrance opens up through cooking and its delicate attributes come alive.
"It harmoniously blends with both savory and sweet dishes."
"While Akaito is more expensive than the imported saffron I have used in the past, I support the company's commitment to its sustainable business model and am excited to work with Akaito. I also look forward to meeting the saffron producers in the future."
As an Akaito Artist since early 2022, Chef Chaignon has creatively used Akaito Japanese saffron in his cuisine, including patisserie. One of his recent dessert courses, LE SOUFFLÉ SAFRAN DE SAGA «AKAITO» ET VANILLE DE TAHAA CRÈME GLACÉE, FRAISE MARINÉE, featured Akaito saffron and Tahiti vanilla ice cream with a saffron-infused souffle. The sunny yellow ice cream had a sweet floral taste, balanced by tart strawberries peeking underneath and raspberry tuile on top. The richness of the vanilla and delicate yet powerful saffron aftertaste lingered in the mouth.
"The guests seemed surprised to see saffron used in the dessert course. But the combinations of vanilla and saffron and the warm souffle and ice cream pair wonderfully."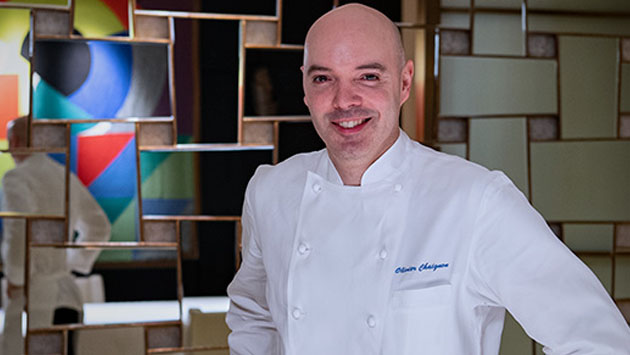 Chef Chaignon
M. Chaignon is Executive Chef of L'OSIER in Ginza, Tokyo. After a lengthy career at renowned establishments including Taillevent and Pierre Gagnaire Paris, he came to Japan in 2005 as executive chef of Pierre Gagnaire Tokyo. He was appointed L'OSIER's Executive Chef in 2013. With L'OSIER, he was awarded two stars in Le Guide Michelin Tokyo 2015-2018 and Gault et Millau Tokyo 2017 "Chef of the Year." He was awarded three stars in Le Guide Michelin 2019 Tokyo and has held that status for four consecutive years.